BeakerGold
Regular price
Sale price
$13.00
Unit price
per
Sale
Sold out
Share
Helps soothe dry, irritated, and rough patches and helps prevent new ones.
Indulge your skin with Lemonaid ~ Body Butter, formulated to help soothe and relieve dry, itchy skin from eczema and psoriasis. This luxurious butter blend is enriched with Shea Butter, Jojoba Extract, Turmeric, Matcha, Frankincense and Myrrh to help your skin feel smooth and nourished. 
Ingredients:
Shea butter — An emollient high in essential fatty acids, shea butter nourishes and supports skin elasticity.
First-Press Jojoba Extract — Extremely healing for eczema and psoriasis. High in vitamin E and the closest to your skin's natural sebum (oil), jojoba extract helps balance your skin's natural oil production, resulting in fewer clogged pores, smooth, and soothed skin.
Grapeseed Oil — High in linoleic acid, Omega-6 fatty acids, and vitamin E, to further aid skin repair.
Matcha & turmeric — Calms and soothes inflammation. 
Frankincense, myrrh, lemon — May help reduce inflammation while adding a small amount of vitamin C. 
The story behind Lemon-aid Body Butter
"As a mom, I quickly realized the need for something to heal my son's eczema, especially when everything I tried on him seemed to burn.  As a chemist, I decided to be the one to find a solution.  A family friend reached out about her son's unending problems with eczema, which further indicated a need for a child-friendly treatment.  After much research, I settled on ingredients and then developed what would become my Lemon-aid Body Butter. "  
— Lisa Langan, Chemist and Owner
View full details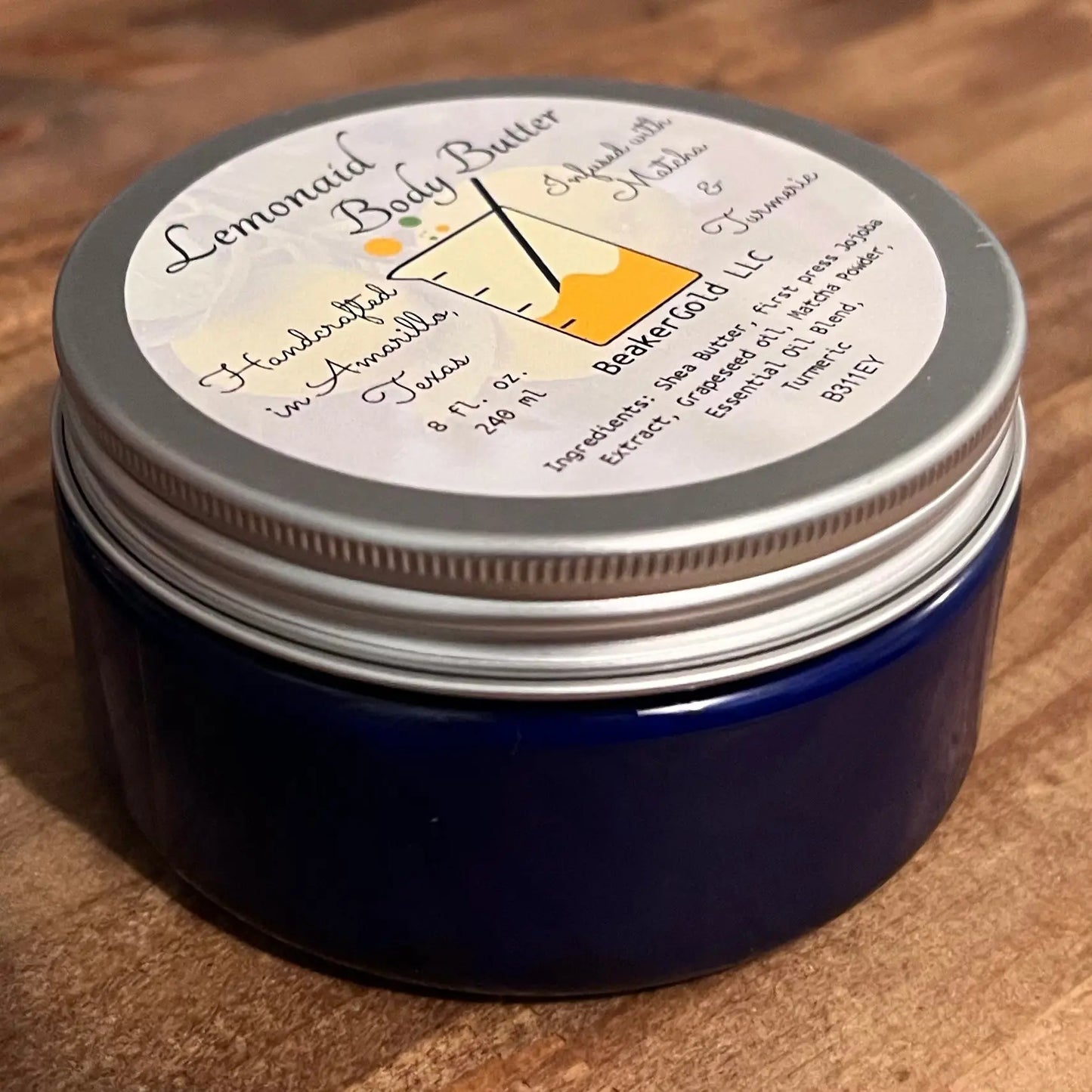 Details
Ingredients

Shea butter, jojoba extract, grapeseed oil, Japanese matcha, turmeric, frankincense, myrrh, and lemon
Unbeatable Pairs
Pair with Lisa's Face Balm for use as night and daytime moisturizer
Pair with Lisa's Face Oil for additional moisture, brighting, and anti-inflammatory properties
Pair with Rose Serum for an extra moisture boost